PROJECT
vipyr
Log your live edit or director's cut and automatically generate your post production workflow.
Post production made easy with
vipyr
vipyr allows you to log every cut, fade or transition throughout a stream or broadcast. It automatically captures all transitions in your multi-camera production and logs the director's live edit for automated post production workflow generation, supporting Davinci Resolve out the box as well as other editing software.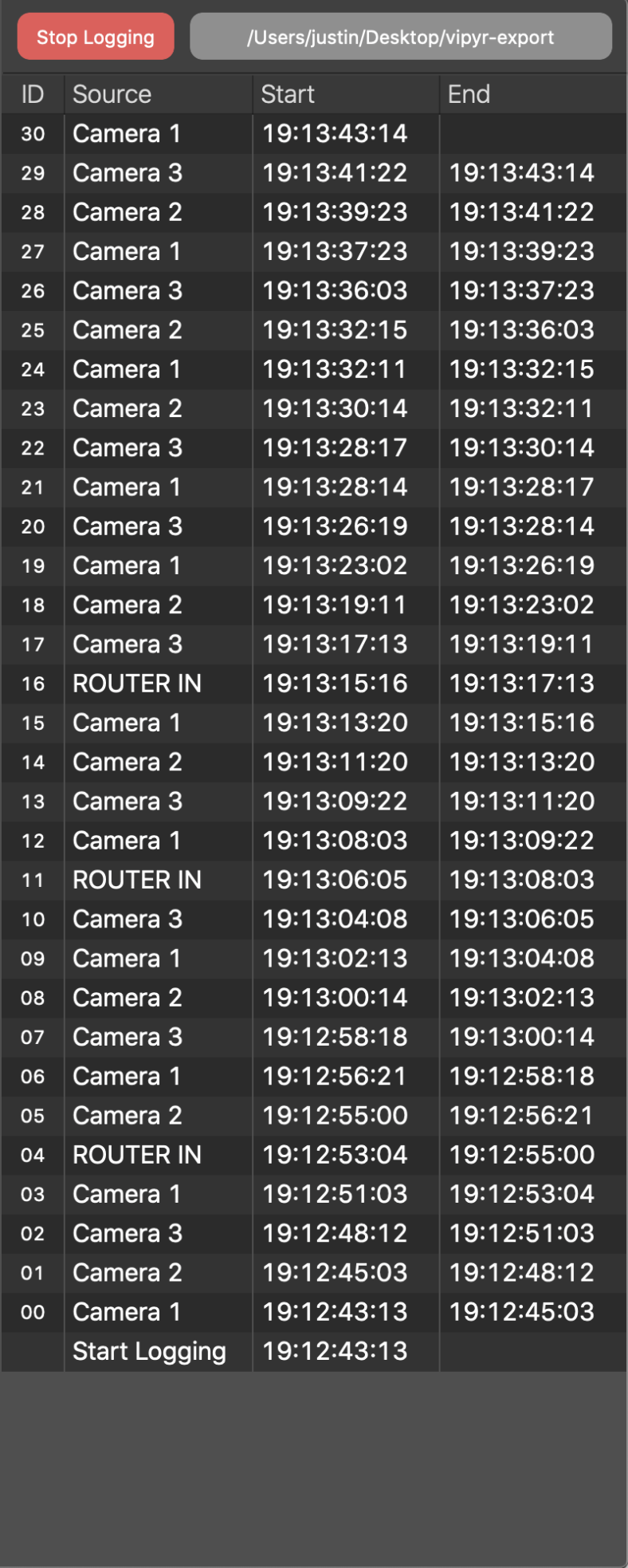 Multi Camera Logging
vipyr simplifies the transition from live stream or broadcast to post production and on demand content delivery. vipyr takes your live edit and creates an editable post production workflow containing all transitions, so if you need to go back into your edit and switch out incorrect cuts or tweak an edit you can. vipyr enables you to live stream or broadcast your program and deliver a higher quality and edited on demand program cut for content delivery after your live stream or broadcast.
Post Production Workflow Generation
vipyr logs the cuts, fades and transitions throughout your record session. Simply start the logger and let vipyr do the rest. Once your record session is over, stop the record and vipyr will automatically generate a Davinci Resolve project file and folder structure for you to drag and drop your ISO files into. Simply open the Davinci Resolve project file and import the generated timeline files to automatically populate your post production workflow.
You can now work with the file just like any standard multicam clip, saving you time and effort in recutting the post production or on demand program.
Connect seemlessly to your production switcher
vipyr connects over ethernet or WiFi to your Blackmagic Vision Switcher to capture frame perfect data. vipyr integrates with the ATEM's generated timecode so you can be certain your transitions will captured accurately and real time.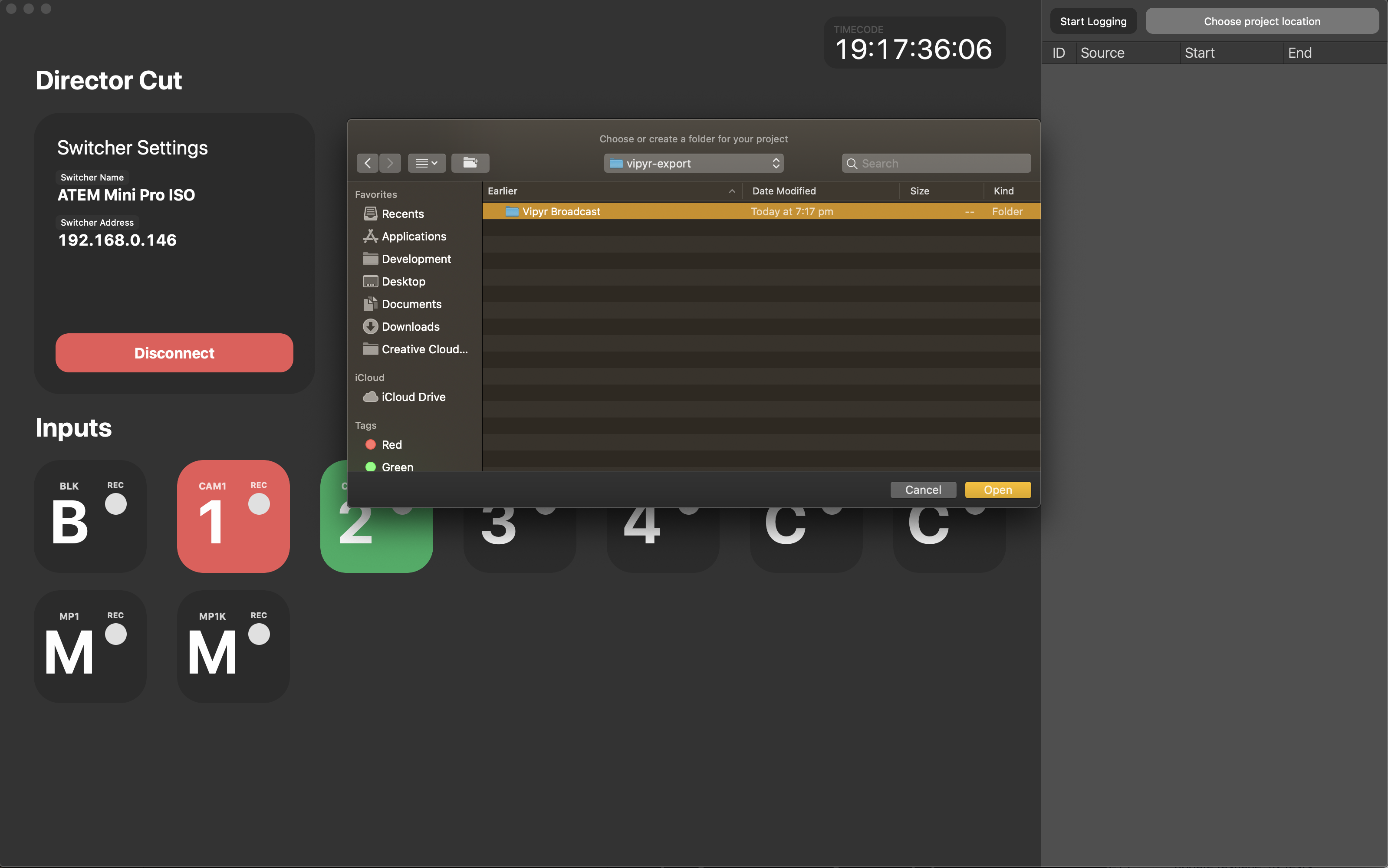 Automatic Input Population
vipyr will automatically populate it's inputs to mirror your production switcher's. All short names, names and input numbers will be reflected within vipyr. No need to manually configure or adjust any settings within vipyr.
Record in all Cameras
vipyr allows you to trigger a record in all connected Blackmagic Cameras. Easy triggering of unmanned cameras and no need for manual triggering by the operator. This works similarly to the beloved ATEM Mini Pro ISO's "Record in all cameras", however, extending this functionality to the larger ATEM Production Switcher lineup.
Log Multiple M/Es
vipyr allows you to record a separate timeline for each ME on your production switcher. These timelines can then easily be imported into the same Davinci Resolve project file and automatically share the same imported footage from your event.
Check out the
vipyr

development board
Pricing
Estamated prices for when vipyr launches to the world. No monthly fees, just a once off purchase and you will have access to Director's Cut for life
Basic
vipyr basic allows you to log up to 4 cameras connected to your production switcher and a maximum of 100 cuts for automatic post production generation.
Log up to 4 cameras
Automatically generate Davinci Resolve Projects
Generate a single timeline with up to 100 cuts
FREE
Advanced
vipyr advanced gives you access to all Director's Cut features, allowing you to log every connected input in your production switcher and an unlimited amount of cuts and transitions.
Log all switcher inputs, including color generators and media players.
Automatically generate Davinci Resolve Projects
Record an unlimited number of cuts
Record cuts across multiple M/Es and generate separate timelines
Record transitions such as fade, etc.
Real time backup logging of cuts and transitions
$99 USD
Sign up to get notified
Sign up using the form below to get notified of our progress and release date. We will let you know when you can pre-order, as well as get access to the beta. If you would like to apply for the closed alpha, you may do so below.
Request an invitation to
vipyr

alpha